LeeHatake's version of The Crossover Game is a fighting game in the vein of Super Smash Bros and PlayStation All-Stars, with a multiple-world free roam mode. The Crossover Game would primarily be available for PlayStation 4, Xbox One, Nintendo Switch, Nintendo 3DS, PlayStation Vita, and PC. The open-world gameplay is exclusive to PS4, Xbox One, Switch, and PC. The game would also be available for PlayStation 3, Xbox 360, Wii U, Nintendo DS, and PSP.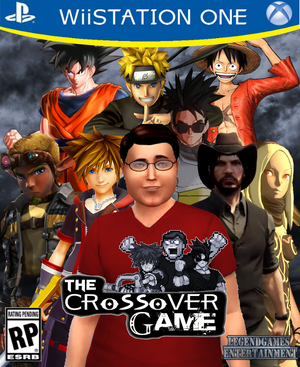 Gameplay
The overall fighting game engine would be derived from Super Smash Bros, with elements of PlayStation All-Stars. Battles can be fought in both damage-based and HP-centric battles. A character's moveset will consist of four directional melee attacks, three directional smash attacks, and four special moves. Each character will recieve two finishing moves: a Super Smash, and a Final Smash. A Super Smash is derived from the Super Move mechanic from PlayStation All-Stars in that it can be accessed through a chargeable meter. However, it is more similar to a Final Smash from Super Smash Bros in that it will deal a great amount of damage, but it not guaranteed to earn a KO. However, the Final Smash, accessed through a Smash Ball like in Smash Bros, will guarantee a KO as it operates identically to PSASBR's Super Moves. Final Smashes can range from cinematics, transformations, and directional/trapping moves. Similar to Naruto Shippuden: Ultimate Ninja Storm 4, players can select two characters before battle, one to serve as a leader and the other to appear as support and an additional fighter that can be swapped out during battle. If certain characters are teamed up together, they will be able to perform Team Final Smashes, as well as Fusions. Amiibos and other NFC figures can also be used in battle, They can either be selected as opponents before battle, or they can drop in and out of a battle in the style of LEGO Dimensions.
The open world is modeled after games such as LEGO Dimensions and Disney Infinity 3.0, wherein players have the choice to travel to multiple open world hubs throughout each franchise in The Crossover Game. The sizes of the hubs vary depending on the franchise chosen. There are a variety of things to do in the open world, such as driving vehicles, flying vehicles, hacking computers, etc. Additionally, there are several puzzles throughout the world, as in the LEGO games. Movement between the worlds works in a similar manner to the LEGO games, wherein you can choose to either warp to a different world through portals accessed via tech such as Batman's Batcomputer, or you can find vehicles to take you to different worlds, such as Star Wars starfighters or the Gummi Ship from Kingdom Hearts.
The Vita and 3DS versions of the game would recieve an additional game, titled The Crossover Alliance,  which takes on gameplay similar to Marvel: Ultimate Alliance. In this game, players can create a team of four characters which can travel around levels in a dungeon-crawler style. Similar to the console version of The Crossover Game, this game also lets players travel to different hub worlds and explore them to an extent. Like in the fighting game, players get two super moves: a Finisher and a Fusion Move. Finishers, like the super attacks in Ultimate Alliance, are character specific and reflect on their unique abilities, also like the Special Abilities in Disney Infinity. Fusion Moves, as the name indicates, allow two characters to combine their powers, as with Ultimate Alliance 2. Certain characters can also perform cinematic Fusion Moves, like Naruto and Sasuke or Goku and Vegeta.
Game Modes
Master Mode: The open-world, free-roaming mode of the game. Use it to explore the various worlds in The Crossover Game.
Free Battle: The battle mode of The Crossover Game. Includes sub-battle modes with different criteria.

Crossover Battle: The main battle mode based on Super Smash Bros and PlayStation All-Stars' battle style. Alternate rules include Battle Royale (a four-to-eight player free-for-all), Tag-Team Battle Royale (A four player free-for-all with tag-in partners), and Team Battle (a four-to-eight player match with teammates). NFC figures can be scanned into this mode to serve as either CPU opponents/partners or called upon as support during battle (in the same manner as Team-Up power discs from Disney Infinity).
NFC Battleground: This mode takes players into a battle style similar to the gameplay of Disney Infinity 3.0, with the layout of battles in the Ninja World Tournament mode of Naruto Shippuden: Ultimate Ninja Storm Revolution. Players can either battle in four-player free-for-alls or two-player team battles, which operate similarly to the Tag-Team Battle Royale mode from Crossover Battle. This mode is exclusive to NFC figures, which include amiibo, Disney Infinity, and LEGO Dimensions. Scanning a figure will unlock that character for use in this battle mode. Amiibo customized in Super Smash Bros and figures that have leveled up in Disney Infinity will carry over their custom moves and levels from those games, making multiples of the same figure unique in terms of power or special moves. The roster expands the more you scan figures, and although the game will recognize the difference between a Smash Bros series Mario and a Mario series Mario amiibo, multiples of the same character from the same brand (with the exception of Yarn Yoshi and Mega Yarn Yoshi) will not add extra slots for said character. Instead, it will add a variation for their moveset.

Arcade: This is where you can take part in various game modes, such as Arcade, All-Star Mode, Test Your Might, Event Match, and a variety of mini-games.
Customization: Use this mode to customize your characters' appearance, from the color of their outfit to their hairstyle. Additionally, you may create your own original characters here.
Network Battle: Use this mode when connected to Nintendo Network, Xbox Live, or PlayStation Network in order to battle players online. Online mode can also be launched in Master Mode, much like Grand Theft Auto Online.
Character Roster
The roster is ever-expanding. Keep this in mind that the roster is subject to change. The original roster has been revamped. All multiples of the same character are now grouped together, and every character is grouped by series or company.

Default Roster
Character(s)
Form(s)
Variation(s)
Bo Jackson
N/A
N/A
Red
N/A
Player (RBY)
Player (LeafGreen)
Pokemon World Tournament
Smash Bros
Leaf
N/A
Kanto
Alola
Green

Gold

N/A
Player (Gold)
Player (SoulSilver)
Kris
N/A
Kris (Crystal)
Lyra (HeartGold)
Brendan

N/A

Classic (Emerald)
Modern (Omega Ruby)
May

N/A

Classic (Sapphire)
Modern (Alpha Sapphire)
Sinnoh Champion
Lucas
Dawn
Lucas (Diamond)
Dawn (Platinum)
Unova Champion
Hilbert
Hilda
Touya (White)
Touko (Black)
Pokemon World Champion
Nate
Rosa
Kyouhei (Black 2)
Rosa (White 2)
Kalos Champion
Calem
Serena
Calem (Y)
Serena (X)
Stadium Trainer
N/A
N/A
Pokemon Snatcher
Wes
Michael
Wes (Colosseum)
Michael (Gale of Darkness)
Terrell 
N/A
N/A
Pikachu
N/A
Red's Pikachu
Cosplay Pikachu
Smash Bros Pikachu
Mewtwo
N/A

Super Smash Bros




Pokken Tournament

Blaziken
N/A
N/A

Lucario

N/A
Super Smash Bros
Pokken Tournament
Link
N/A
Breath of the Wild
Linkle
Dark Link
Classic Link
Soulcalibur
Smash Bros
Young Link
Young Link
Adult Link
Fierce Deity Link
Young Link (Melee)
Hyrule Warrior
Hero of Time
Transformation Masks
Toon Link
N/A
Wind Waker
Smash Bros
Hyrule Warrior
Zelda
Zelda
Shiek
Hyrule Warriors
Smash Bros
Tetra
N/A
N/A
Impa
N/A
N/A
Ganondorf
Ganondorf
Ganon
Hyrule Warriors
Wind Waker
Smash Bros
Skull Kid
N/A
N/A
Ghirahim
N/A
N/A
Cia
Cia
Lana
Goddess of Time
Midna
N/A
Midna & Wolf Link
Twili Midna
Mario
N/A
Super Mario
Super Mario Bros Z
Super Mario Maker
Luigi
N/A
Super Mario Bros Z
Super Smash Bros
Mario Kart Luigi
Peach
Peach
Daisy
Super Smash Bros
Double Dash
Bowser
Bowser
Dry Bowser
Super Mario Bros Z
Super Smash Bros
Galaxy Bowser
Bowser Jr.
N/A
Lemmy
Iggy
Larry
Morton
Roy
Wendy
Ludwig
Rosalina
Rosalina
Plum
Smash Bros Rosalina
Mario Golf Plum
Metal Mario
N/A
Metal Mario
Mario Kart Mario
Toad
N/A
Mario Party
Super Mario Bros Wii
Yoshi
N/A
Yoshi & Baby Mario
Super Smash Bros
Hat Powers
Wario & Waluigi
N/A
Smash Bros
Double Dash
Super Mario Bros Z
King Boo
N/A
Mario Party
Luigi's Mansion
Paper Mario
N/A
Paper Mario
8-Bit Mario
Donkey Kong
N/A
Super Smash Bros
Donkey Kong 64
Diddy Kong
N/A
Smash Bros
Donkey Kong 64
Donkey Kong Jr.
N/A
N/A
King K. Rool
N/A
N/A
Banjo Kazooie
N/A
N/A
Conker
N/A
N/A
James Bond
N/A
N/A
South Park Kids
N/A
Stan Marsh
Kyle Broflovski
Kenny McCormick
Eric Cartman
Buzz Lightyear
N/A
Toy Story 2 (N64)
Disney Infinity
Sarge
N/A
N/A
Shaggy
N/A
Classic Creep Capers
LEGO Dimensions
Daffy Duck
N/A
Duck Dodgers
Green Loontern (LEGO Batman 3)
Johnny Cage
N/A
Mortal Kombat Trilogy
Mortal Kombat X
Sub-Zero
N/A
Mortal Kombat Trilogy
Mortal Kombat X
Liu Kang
N/A
Mortal Kombat Trilogy
Revenant
Scorpion
N/A
Klassic
Injustice
Mortal Kombat X
Shao Kahn
N/A
Shao Kahn
Dark Kahn
Shinnok
Onaga
Cassie Cage
N/A
Cassie Cage
Sonya Blade
Erron Black
N/A
N/A
Taven
N/A
Taven
Daegon
Freddy Krueger
N/A
Mortal Kombat
Classic Freddy
Jason Voorhees
N/A
Jason Voorhees
Leatherface
Predator
N/A
Predator
Baraka Xenomorph
Danny Phantom
Danny
Dan
Ultimate Enemy
Nicktoons Unite
Jimmy Neutron
N/A
N/A
Timmy Turner
N/A
N/A
SpongeBob SquarePants
N/A
N/A
Obi-Wan Kenobi
Padawan
Force Ghost
LEGO
Disney Infinity
Battlefront
Force Unleashed
Anakin Skywalker
N/A
Anakin Skywalker
Dart Vader
Disney Infinity
Yoda
N/A
LEGO
Disney Infinity
Battlefront
Luke Skywalker
LEGO
Battlefront
Rebel
Disney Infinity
Dark Side
Ahsoka Tano
N/A
LEGO
Disney Infinity
Rebels
Boba Fett
N/A
Battlefront
LEGO
Disney Infinity
Clone Trooper
JDN-193 (Jaden)
Clone Trooper
Stormtrooper
Rebel Soldier
X2
Starkiller
N/A
General Marek
Lord Starkiller
Starkiller Clone
LEGO
Yugi Muto
N/A
Yugi Muto
Yami Yugi
Shadow Games
Jaden Yuki
N/A
Slifer Red
Supreme King
Yusei Fudo
N/A
N/A
Yuma Tsukumo
N/A
N/A
Yuya Sakaki
N/A
N/A
Seto Kaiba
N/A
Duelist Kingdom
Battle City
Darkside of Dimensions
Tag Force Duelist
Yusuke Hatake (Hatake93)
Duelist of the Roses
GX Tag Force
5D's Tag Force
Bobobo-Bo Bo-Bobo
N/A
Jump Superstars
J-Stars Victory VS
Jotaro Kujo
N/A
Jotaro Kujo
Johnathan Joestar
Joseph Joestar
Allen Walker
N/A
N/A
Yoh Asakura
N/A
N/A
Goku
Kid Goku
Adult Goku
Kid Goku
GT Goku
Z Goku
Dragon Ball Super
Goku (Naruto's Outfit)
N/A
Goku (Naruto's Outfit)
Power Swap
Vegeta
N/A
Z Vegeta
Dragon Ball Super
GT Vegeta
Baby Vegeta
Gohan
Teen
Future
Teen
Adolescent
Future
Ultimate
Trunks
N/A
Future Trunks
GT Trunks & Goten
Adult Gotenks
Goten & Trunks
N/A
Goten & Trunks
Gotenks
Gokule
N/A
Gokule
Tiencha
Gogeta
Gogeta
Vegito
Super Gogeta
Super Saiyan 4 Gogeta
Super Vegito
Bardock
N/A
Bardock
Super Saiyan
Great Ape
Dragon Ball Heroes
Broly
N/A
Super Saiyan
Legendary Super Saiyan
Frieza
N/A
Frieza
Golden Frieza
Cooler
Cell
N/A
Perfect Form
Whis
N/A
Whis
Vados
Beerus
N/A
Beerus
Champa
Leek
Xenoverse
Ultimate Tenkaichi
Time Patrol
Kid Leek
Kakarot
N/A
Majin Kakarot
Goku Black
Demigra
N/A
Demigra
Mira & Towa
Super Buu
Monkey D. Luffy
N/A
Pre-Timeskip
Timeskip
Portgas D. Ace
N/A
N/A
Roronoa Zoro
N/A

Pre-Timeskip




Timeskip

R.O.B.
N/A
Smash Bros
Ancient Minister
Naruto
Part I
Part II
The Last
The Green Beast
One-Tailed
Three-Tailed
Six Paths Sage Mode
Brawl Legends
Seventh Hokage
Sasuke
Part I
Part II
The Last
Chunin Exams
Curse Mark Second State
Hebi
Mangekyo Sharingan
Brawl Legends
Boruto the Movie
Kakashi
N/A
Anbu
Jonin
Hokage
Hashirama Senju
Hashirama
Minato
Sage Mode Hashirama
Reanimated Hokage Trio
Minato Namikaze
Boruto & Sarada
N/A
Boruto & Sarada
Brawl Legends Boruto
Brawl Legends Sarada
Minato Uzumaki
Gaara
N/A
Part I
Part II
Epilogue
Itachi Uchiha
N/A
Akatsuki
Reanimated
Itachi & Shisui
Orochimaru
N/A
Orochimaru
The Three Sannin
Madara Uchiha
N/A
Young Madara
Reanimated
Ten-Tails Jinchuriki
Obito Uchiha
Adult
Young Obito
Tobi
Orange Mask Tobi
White Zetsu Armor
Masked Man
Mecha-Naruto
Mecha-Naruto
Dark Naruto
Mecha-Naruto
Network Clone
Dark Naruto (B.O.N.D.)
Menma (Brawl Legends)
Kisame Hoshigaki

N/A

Kisame
Hidan
Kakuzu
Sasori

N/A

Hiruko
Sasori
Deidara
Kaguya Otsutsuki
N/A
Kaguya
Hagoromo
Hamura
Ichigo Kurosaki
N/A
Shikai
Bankai
Visored Ichigo
Gintoki Sakata
N/A
N/A
Medaka Kurokami
N/A
N/A
Indiana Jones
N/A
LEGO
Batman
N/A
LEGO 
Arkham
Nightwing
N/A
LEGO 
Injustice 
Joker
LEGO Joker
Joker & Harley
LEGO 
Arkham
Superman
LEGO
Superman Returns
LEGO
Superman Returns
Injustice
General Zod
N/A
Injustice
LEGO
Adam West
N/A
LEGO Batman 3
Captain America
N/A

LEGO Avengers




Disney Infinity




Marvel vs Capcom

Iron Man
N/A
LEGO Avengers
Disney Infinity
Marvel vs Capcom
Thor
N/A
LEGO Avengers
Disney Infinity
Marvel vs Capcom
Hulk

N/A

LEGO Avengers
Marvel vs Capcom
Disney Infinity
Wolverine

N/A

Marvel Nemesis
LEGO Marvel
Marvel vs Capcom
Deadpool
N/A
Marvel vs Capcom
Ultimate Alliance
LEGO
Spider-Man
N/A
Spider-Man
LEGO
Disney Infinity
Shattered Dimensions
Green Goblin
N/A
Norman Osborn
Harry Osborn
Disney Infinity
LEGO
Doc Ock
N/A
Movie
Friend or Foe
LEGO
Venom
Venom
Carnage
Ultimate
Disney Infinity
Carnage
LEGO
Sandman
N/A
Movie
Friend or Foe
Ghost Rider
N/A
Marvel vs Capcom
Movie
Loki
N/A
LEGO
Disney Infinity
Star-Lord
N/A
Star-Lord
Gamora
Rocket & Groot
Marvel vs Capcom Rocket
Stan Lee
N/A
Amazing Spider-Man
LEGO
Captain Falcon
N/A
N/A
Solid Snake
N/A
Smash Bros
Big Boss
Venom Snake
Raiden
Raiden
Sam
Metal Gear Solid 2
Cyborg Ninja
PlayStation All-Stars
Mii Hatake
N/A
Mii Fighter
Wii Sports
Villager
N/A
Smash Bros
Mario Kart
Tabuu
N/A
N/A
Wii Fit Trainer
N/A
N/A
Duck Hunt
N/A
Smash Bros
Duck Hunt
Robin
N/A
Smash Bros (Female)
Fire Emblem: Awakening (Male)
Corrin
N/A
Smash Bros (Male)
Fire Emblem: Fates (Female)
Chrom
N/A
N/A
Bayonetta
N/A
N/A
Sophitia
N/A
Sophitia
Elysium
Nightmare
N/A
Nightmare
Inferno
Siegfried
N/A
Siegfried
Z.W.E.I.
Algol
N/A
N/A
Patroklos
N/A
Patroklos
Alpha Patroklos
Pyrrha
N/A
Pyrrha
Pyrrha Omega
Edge Master
N/A
Edge Master
Olcadan
Kilik 
LeeHatake93
N/A
Soulcalibur V
Realistic
Legends
Spawn
N/A
N/A
Heihachi
N/A
N/A
Jin Kazama
N/A
N/A
King
N/A
N/A
Lars Alexandersson
N/A
Tekken
Naruto Storm 2
Ezio Auditore
N/A
N/A
Desmond Miles
N/A
Altair
Conner
Edward Kenway
Claude
Claude
Tommy Vercetti
Toni Cipriani
Victor Vance
Carl Johnson
N/A
Normal CJ
Fat CJ
Niko Bellic
Niko
Johnny Klebitz
Luis Lopez
Niko
Johnny
Luis
Huang Lee
N/A
Huang Lee
Claude Speed
GTA Protagonist
Los Santos Trio
Trevor
Michael
Franklin
Los Santos Trio
Three-Man Army
GTA Online
N/A
Jay Marston
Zuko Bellic
Daniel Lamb
N/A
N/A
Jimmy Hopkins
N/A
N/A
Cole Phelps
N/A
N/A
John Marston
John
Jack Marston
Gunslinger
Undead Nightmare
Chris Redfield
N/A
Chris
Claire Redfield
Albert Wesker
N/A
N/A
Jill Valentine
N/A
Jill
Sheva Alomar
Leon S. Kennedy
N/A
Leon
Ada Wong
Nemesis T-Type
N/A
N/A
Sly Cooper
N/A
Thieves in Time
PlayStation All-Stars
Ratchet & Clank
N/A
PlayStation All-Stars
Combat Racers
Jak
Jak
Daxter
Young Jak
Renegade Jak
Wastelander Jak
Exterminator Daxter
Human Daxter
Ashelin Praxis
N/A
Combat Racer
Torn
Kratos
N/A
N/A
Ico
Ico
Wander
Ico
Wander
Ultra-V
N/A
N/A
Spike
N/A
PlayStation All-Stars
Ape Escape
PaRappa
N/A
N/A
Dante
Classic
New Dante
Dante
Vergil
Nero
Crash Bandicoot
N/A
N/A
Sweet Tooth
N/A
PlayStation All-Stars
Twisted Metal
Sir Daniel Fortesque
N/A
N/A
Nathan Drake
N/A
PlayStation All-Stars
Golden Abyss
A Thief's End
Sam Drake
N/A
N/A
Victor Sullivan
N/A
Sully
Elena
Cutter
Joel & Ellie
N/A
Survivors
Prologue
Left Behind
Tommy
Tommy
Riley
Young Tommy
Riley
Cole MacGrath
N/A
Kessler
Cole
Evil Cole
Empire City
Zeke Dunbar
N/A
N/A
Delsin Rowe
N/A
Good
Evil
Power Mimicry
Future
Fetch
N/A
Fetch
Eugene
Hot Shots Golf
Yamato
Mel
Yamato
Yuna
Mel
Toro Inoue
Toro
Kuro
Justice
Ninja
Oni
Kat & Dusty
Kat
Raven
PlayStation All-Stars
Gravity Rush 2
Norman Reedus
P.T.
N/A
Heather Mason
N/A
N/A
Jodie Holmes
N/A
N/A
Sackboy
N/A
PlayStation All-Stars
LittleBigPlanet
Dart Feld
N/A
Dart
Rose
Polygon Man
N/A
Supreme Power
Master Polygon
Home Avatar
LeeHatake93
N/A
Sinner 
N/A
Exel Takashi
Tamako Seikuna
Cloud Strife

N/A

N/A

Sephiroth
N/A

N/A

Sora
N/A
Sora
Roxas
Xion
Ventus
N/A
Ventus
Aqua
Terra
Vanitas
N/A
N/A
Riku
N/A
N/A
King Mickey

N/A

King Mickey
Sorcerer's Apprentice (Disney Infinity)
Hercules

N/A

Hero
Teen
Optimus Prime
N/A
Armada
Film
Devastation
Megatron

N/A

Armada
Film
Devastation
Hot Shot

N/A

N/A

Bumblebee

N/A

Film
Devastation
Felicity Usher
Sims
The Sims
The Sims 2
The Sims 3
The Sims 4
Dylan Holmes

N/A

Sims 
Soulcalibur
Conduit
LegendGames
Grim Reaper

N/A

N/A

Griffin Family

N/A

Peter Griffin
Stewie & Brian
Ben Tennyson
Teen
Kid
Teen
Young
Ben 10,000
Albedo

N/A

Alien Force
Omniverse
Johnny Bravo

N/A

N/A

Samurai Jack

N/A

N/A

Harry Potter

N/A

Harry Potter
LEGO
Voldemort

N/A

Voldemort
LEGO
Albus Dumbledore

N/A

LEGO
Dumbledore
Jaws

N/A

N/A

The Boss

N/A

Laura
Troy
Johnny Gat
Gat
Kinzie
Super Saint
Divekick
Arcane
Saints the Third
Shaundi
Corvo Attano

N/A

Corvo
Emily
Dragonborn
Dovahkiin
Raizo
Raiken Frostfire
Fayre Snow
King Ka'non
Raizo Dragonheart
Finn Altmer
Marty McFly

N/A

Marty
Doc Brown
LEGO Dimensions
Lee Everett

N/A

Lee
Kenny
Clementine

N/A

Kind
Abrasive
Michonne

N/A

TBA
Bigby Wolf

N/A

Half-Wolf
Werewolf
Big Bad Wolf
Gerry Harding

N/A

Telltale Games
LEGO
Owen Grady

N/A

Owen
Grant
Malcolm
Rhys & Fiona
Rhys
Fiona
Vaughn
Sasha
Rhys-quez
Asher Forrester

N/A

Asher
Rodrik
Gared
Gregor
Jesse

N/A

Jesse
Petra
Gabriel
Ivor
Steve?

N/A

Steve?
Herobrine
Ender Dragon

N/A

N/A

Frank West

N/A

Marvel vs Capcom
Off the Record
Chuck Greene

N/A

Dead Rising 2
Dead Rising 3
Nick Ramos

N/A

Nick
Annie
Rico Rodriquez

N/A

N/A
Wei Shen

N/A

N/A

Lara Croft

N/A

N/A

Xbox Avatar
LeeHatake93LIVE

N/A

Master Chief

N/A

Halo: Combat Evolved
Halo 4
Left 4 Dead Survivors
Left 4 Dead
Left 4 Dead 2
Louis
Zoey
Bill
Francis


Ellis




Nick




Rochelle




Coach

Isaac Clarke

N/A

Dead Space
PlayStation All-Stars
Ryu

N/A

Super Smash Bros
Asura's Wrath
Asura

N/A

N/A

Chase McCain

N/A

Chase
Rex Fury
Alex Mercer

N/A

N/A

Max Caulfield

N/A

N/A

Crypto

N/A

N/A

Gandalf

N/A

Gandalf
WyldStyle
Fallout Survivor
N/A
John Sullivan
Marie Sullivan
Ryan Foster
Emily Courser
Original Characters
These characters are original creations, either based on licensed media or completely original IP ideas, that do not originate from licensed video games, such as the case with characters like Dylan Holmes, Leek, or Yusuke Hatake.
Unlike licensed characters, original characters group Forms and Variations under the same category. As with the Naruto: Ultimate Ninja Storm series, changing to certain costumes can change a character's moveset, or their specials/finishing moves.
Character
Series
Forms/Variations
Lee Hatake
Brawl Legends
Teen
Adult
Reboot
Rig Hyuga
Brawl Legends
Teen
Adult
Rig Ryujin
Nero Crescent
Brawl Legends
Saiyan
LegendGames
Shinobi
The Fallen
Brawl Legends
Fallen (Android)
Fallen (Chakra Entity)
Gosuke & Nageta
Dragon Ball x Naruto
Gosuke
Nageta
Goruseta
Goruffigo
B.O.N.D.
Hollow-Tailed Saiyan
Series Finale
Timeskip
Bankatsu no Akuma
B.O.N.D.
B.O.N.D.
LegendGames
Ultimate
Allen Stark
Hero's Retribution
Retribution
V-Ranger
Adrian Holmes
Hero's Retribution
Adrian Holmes
Brendan Holmes
Alyssa Holmes
inFamous Retribution
N/A
James Draiman
Notoriety
N/A
Jack Longhorn
Agent 0049
N/A
Stabbo the Clown
Blood Prophecy
N/A
Lin Hasegawa
Persona X Arena Breakthrough
Lin
Kaito Iwamoto
Koharu-no-Okami
Vincent & Selene
Pokemon Legends/Dimensions
Vincent Harmonia 
Selene Abelia

Ace Spectrum

Meta Monsters

N/A
Fierce Vegito
Super Smash Bros. Tenkaichi
N/A
Kevin Butler
PlayStation All-Stars: Polygon Version
N/A
The All-Star
Battle Royale Manga
N/A
Custom Character
The Crossover Game
Determinant
NFC Fighters
These fighters are selectable by either scanning an amiibo, placing a Disney figure onto the Infinity Base, or placing a LEGO Dimensions figure onto the Portal. They can be used as support summons during battle, and are playable in NFC Battlegrouds and Story Mode.
| Figure | Type |
| --- | --- |
| Mario (Smash Bros) | amiibo |
| Mario (Mario Party) | amiibo |
| Luigi | amiibo |
| Peach | amiibo |
| Toad | amiibo |
| Bowser | amiibo |
| Yoshi | amiibo |
| Kirby | amiibo |
| Donkey Kong | amiibo |
| Diddy Kong | amiibo |
| Fox McCloud | amiibo |
| Captain Falcon | amiibo |
| Villager | amiibo |
| Wii Fit Trainer | amiibo |
| Shulk | amiibo |
| Ike | amiibo |
| Samus | amiibo |
| Zero Suit Samus | amiibo |
| Link | amiibo |
| Link (Ocarina of Time) | amiibo |
| Zelda | amiibo |
| Ganondorf | amiibo |
| Shiek | amiibo |
| Toon Link | amiibo |
| Inkling Girl | amiibo |
| Charizard | amiibo |
| Pikachu | amiibo |
| Mewtwo | amiibo |
| Lucario | amiibo |
| Greninja | amiibo |
| Pac-Man | amiibo |
| Mega Man | amiibo |
| Sonic | amiibo |
| Ryu | amiibo |
| Shovel Knight | amiibo |
| Sorcerer's Apprentice Mickey Mouse | Disney Infinity |
| Mr. Incredible | Disney Infinity |
| Iron Man | Disney Infinity |
| Black Widow | Disney Infinity |
| Thor | Disney Infinity |
| Black Suit Spider-Man | Disney Infinity |
| Venom | Disney Infinity |
| Rocket Raccoon | Disney Infinity |
| Captain America- The First Avenger | Disney Infinity |
| Ant-Man | Disney Infinity |
| Anakin Skywalker | Disney Infinity |
| Luke Skywalker | Disney Infinity |
| Ahsoka Tano | Disney Infinity |
| Han Solo | Disney Infinity |
| Darth Vader | Disney Infinity |
| Boba Fett | Disney Infinity |
| Finn | Disney Infinity |
| Rey | Disney Infinity |
| Kylo Ren | Disney Infinity |
| Batman | LEGO Dimensions |
| Gandalf | LEGO Dimensions |
| Wyldstyle | LEGO Dimensions |
| Harry Potter | LEGO Dimensions |
| Voldemort | LEGO Dimensions |
| Zane | LEGO Dimensions |
DLC Fighters
These are the characters that joined the roster after the most recent full roster image was designed. "DLC" merely means they're not present on the final roster image, though they will be added in future images. They currently do not have variations or alternate forms. except for The Sound Five and Alola Trainers, though others may be added sometime in the future.
| Character | Game/Series | Image |
| --- | --- | --- |
| Aiden Pearce | Watch_Dogs | |
| Ajna | Indivisible Prototype | |
| Akira Kurusu | Persona 5 | |
| Akuma | Street Fighter  | |
| Alola Trainer | Pokemon Sun & Pokemon Moon | |
| Aloy | Horizon: Zero Dawn | |
| Ami/Takumi  | Digimon Story: Cyber Sleuth | |
| Ash Ketchum | Pokemon | |
| Booker DeWitt | BioShock Infinite | |
| Chrono | Chrono Trigger | |
| Emmet | The LEGO Movie Video Game | |
| Galactus | Marvel | |
| Genos & Saitama | One Punch Man | |
| Hatsune Miku | Vocaloids | |
| Hunter | Bloodborne | |
| Inkling Girl | Splatoon amiibo | |
| Itsuki Aoi | Tokyo Mirage Sessions #FE | |
| Kasumi | Dead or Alive 5 | |
| Kazuma Kiryu | Yakuza | |
| Kirby | Kirby: Planet Robobot | |
| Kylo Ren/Rey | Star Wars: The Force Awakens | |
| Laila | Dragon Age: Inquisition | |
| Maya Amano | Persona 2: Eternal Punishment | |
| Minato Arisato/Makoto Yuki | Persona 3/Portable | |
| Mecha Sonic | Super Mario Bros Z | |
| Mega Man | Mega Man 8 | |
| Miles Edgeworth | Ace Attorney | |
| Mister Mosquito | Mister Mosquito | |
| Mr. Incredible, Sulley, & Jack Sparrow | Disney Infinity 1.0 | |
| Naoya Toudou | Persona | |
| Nariko | Heavenly Sword | |
| Noctis | Final Fantasy XV | |
| Paragon | Marvel Nemesis: Rise of the Imperfects | |
| Phoenix Wright | Ace Attorney | |
| Reiji Arisu & Xiaomu | Project X Zone | |
| Rich Uncle Pennybags | Monopoly Plus | |
| Ruby Rose | RWBY | |
| Rudy Roughnight | Wild Arms | |
| Sho Minazuki & Labrys | Persona 4 Arena | |
| Shovel Knight | Shovel Knight | |
| Shulk | Xenoblade Chronicles | |
| Sonic & Shadow the Hedgehog | Sonic the Hedgehog/Super Mario Bros Z | |
| Sound Five | Naruto: Ultimate Ninja | |
| Supergirl | Injustice 2 | |
| Talion | Shadow of Mordor | |
| Tatsuya Suou | Persona 2: Innocent Sin | |
| Tidus | Final Fantasy X/Dissidia | |
| Tracer | Overwatch | |
| Vincent Brooks | Catherine | |
| Vortech | LEGO Dimensions | |
| Xehanort | Kingdom Hearts | |
| Yu Narukami | Persona 4 | |
| Yusuke Urameshi | YuYu Hakusho | |
| Zeus | God of War Saga | |
Worlds
This is a list of the worlds players can visit. Each world boasts a level of open world exploration and some worlds, like Star Wars, let players explore different planets or sub-worlds.
World
Series
Location(s)
Pokemon World
Pokemon
Kanto
Johto
Hoenn
Sinnoh
Unova
Kalos
Alola
Orre
Hyrule
Legend of Zelda
Hyrule (N64 Era)
Hyrule (Wind Waker)
Hyrule (Twilight Princess)
Skyloft
Twilight Realm
Valley of Seers
Mushroom Kingdom
Mario
Donkey Kong
Peach's Castle
Mario Galaxy
Kong Island
South Park
South Park
South Park, Colorado
LEGO City
LEGO City Undercover
LEGO City
Barnett College
LEGO Indiana Jones
Barnett College
Various Locations
World of Trophies
Super Smash Bros
Subspace
Various Nintendo Worlds
LEGO Dimensions
LEGO Dimensions
Middle-Earth
Ghostbusters
Ninjago World
Apterture Science Center
Chima World
Jurassic World
Springfield
Hill Valley
World of Colossi
Shadow of the Colossus
Shadow of the Colossus Map
ICO Locations
Souls & Swords
Soulcalibur
Soulcalibur III Map
Real World
Reality (The Sims)
Hatake Home
Tech University
GameStop Town
Vengeance World
Vengeance Universe
Lynch City
Mob County
Cortech Industries
Nuevo Venturas
Sims World
The Sims
Strangetown
Moonlight Bay
Moonlight Falls
Sims University
Future Town
Vengeance Town
HD Universe
Rockstar Games
Los Santos (HD)
Blaine County (HD)
Liberty City (HD)
Los Angeles (L.A. Noire)
New Austin (Red Dead)
Infected New Austin (Undead Nightmare)
3D Universe
Rockstar Games
San Andreas (PS2 Era)
Liberty City (PS2 Era)
Vice City (PS2 Era)
Bullsworth Academy (Bully)
Carcer City (Manhunt)
Raccoon City
Resident Evil
The Mansion
Raccoon City
DR World
Dead Rising
Los Perdidos
Fortune City Plaza
MGS World
Metal Gear
Shadow Moses Island
Camp Omega
Mother Base
Cooper World
Sly Cooper
Paris, France
Thieves in Time
Lombax World
Ratchet & Clank
Metropolis (R&C)
Eco World
Jak and Daxter
Sandover Village
Haven City
Spargus City
Kras City
GoW World
God of War
Olympus
Hades
The Hub
PlayStation Home
The Hub
Gallowmere
MediEvil
Gallowmere
Hall of Heroes
Uncharted World
Uncharted
El Dorado
Shambahlia
Iram of the Pillars
Quivira
Sully's Bar
TLoU World
The Last of Us
Jackson
Bill's Town
Salt Lake City
Colorado Mountain Plaza
Conduit World
inFamous
Empire City
New Marais
Seattle
Curdun Cay
Hekesville
Gravity Rush
Hekesville
Silent Hill
Silent Hill
Silent Hill
P.T. House
Panopticon
Freedom Wars
Panopticon
Battle Areas
FF World
Final Fantasy
Midgar
TBA
KH World
Kingdom Hearts
Destiny Islands
Twilight Town
Olympus Coliseum
Hundred Acre Wood
Agrabah
The ToyBox
Disney Infinity
Various Disney Worlds
Marvel Universe
Marvel
New York City (Marvel)
Far Away Galaxy
Star Wars
Coruscant
Tattooine
Naboo
Geonosis
Kamino
Hoth
Death Star
Endor
Raxis Prime
Starkiller Base
Jakku
Corellia
TF World
Transformers
Mission City
Egypt
Cybertron
Quahog
Family Guy
Quahog, Rhode Island
Wizarding World
Harry Potter
Hogwarts
Hogsmeade
Godric's Hollow
The Burrow
Diagon Alley
4 Privet Drive
12 Grimmauld Place
Georgia
The Walking Dead
Macon
Howe's Hardware
Travelier Motel
Gil's Pitstop
Wellington
Fabletown
The Wolf Among Us
The Woodlands
The Pudding N' Pie
The Cut Above
Sheppard Metalworks
The Lucky Pawn
Borderlands
Borderlands
Pandora
Helios
Elpis
GoT World
Game of Thrones
Ironwrath
The Wall
King's Landing
Mereen
Essos
The North Grove
The Overworld
Minecraft
EnderCon
Order of the Stone Temple
Boom Town
Redstonia
The Nether
The End
Just Cause World
Just Cause
Panau
Medici
Nicktoons World
Nicktoons
Fairy World
Retroville
Amity Park
Bikini Bottom
Yu-Gi-Oh! World
Yu-Gi-Oh!
Domino City
Duel Academy
New Domino City
Rose Era
Jump World
Shonen Jump
Alabasta
Vegetable Sky
Athena's Temple
Dark Tournament Stadium
Soul Society
Inferno Crags
Kameari Police Station
Yoshiwara Paradise
Penguin Village
Ninja World
Naruto
Hidden Leaf Village
Hidden Sand Village
Hidden Rain Village
Land of Waves
Hidden Cloud Village
Ninja War Battlefield
Five Kage Summit
Samurai Bridge
Kamui's Dimension
Time Nest
Dragon Ball Z
Planet Namek
Kami's Lookout
King Kai's Planet
Beerus' Planet
Other World
Goku's Home
Kame House
Capsule Corp.
Trunks' Future
Supreme Kai's World
Tamriel
The Elder Scrolls
Cyrodiil
Skyrim
The Vault
Fallout
TBA
Saints' World
Saints Row
Steelport
Stilwater
The Simulation
New Hades
DC Universe
DC Comics
Gotham City
Arkham City
Metropolis (Superman)
Oa
The Watchtower
Dead Space
Dead Space
USG Ishimura
Installation 04
Halo
Installation 04
Surviors' World
Left 4 Dead
Various Locations
TBA
Sleeping Dogs
TBA
TBA
Tomb Raider
TBA
Ad blocker interference detected!
Wikia is a free-to-use site that makes money from advertising. We have a modified experience for viewers using ad blockers

Wikia is not accessible if you've made further modifications. Remove the custom ad blocker rule(s) and the page will load as expected.